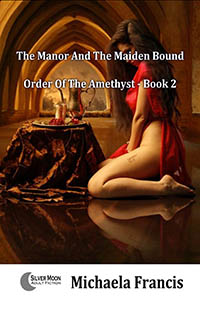 Michaela is a UK author based in Yorkshire. Born in the city of York, Michaela spent many
years travelling throughout Europe during a career as an entertainer before returning to
the UK to study for a Masters degree in history. The author of several novels and many
short stories, as well as several works of non-fiction, Michaela's style mixes
romance, fantasy and eroticism in a rich blend of well researched authenticity and
descriptive imagination. Widely travelled, multi-lingual and multi-cultural, Michaela
draws upon her own experiences and adventures to enhance the diversity of her writing
while adhering to Tolkein's mantra "the inner consistency of reality" to
bring realism and credibility to the imaginary worlds she creates.      
Ebook Price
$7.95
The Manor And The Maiden Bound
(Michaela Francis)
STORY DESCRIPTION
Life has been confusing for Jennifer since her exile in Mathomdale as she is torn between the excitement of her beloved Julie and the darker passions of Baxter's whip. Now, however, a more serious matter has arisen. The young girl has come to the notice of the formidable Lady Mathom; the fabulously rich and enigmatic matriarch who is the real power in the valley. Jennifer is invited to visit the vast edifice of Mathom Hall to meet this strange, almost mythical figure, with no idea of why the woman should take such an interest in her.

Even as she prepares to meet Lady Mathom, however, Jennifer begins to come across more and more people familiar with her. There are the four young women who hold some mysterious position at Mathom Hall, the landlady of the Mathom Arms in the village and, most importantly, the beautiful Rachel who will describe, in graphic detail, her own experiences at Mathom Hall. From these sources, Jennifer begins to learn something of the true nature of Mathomdale, the curious sub-culture and dark secrets of the people within it and the real reason why Lady Mathom should be so interested in her. In horrified fascination, she feels the tendrils of enslavement beginning to close around her.

This, the shocking second volume in the "Slaves of the Amethyst" saga, will take the reader on a whirlwind journey of sexuality through Mathomdale. From Jennifer and Julie's sexual adventures in the meadows, the dark sensuality of Lady Mathom's chambers and the hidden caverns of slavery in the vast cellars beneath Mathom Hall, the bizarre world of the Valley of the Goddess is tantalisingly revealed.

No. words: 75300 We do not recommend this book for readers under 18 years of age
Style: Erotic Domination - F/F, Erotic Domination - M/F, Male Dom - M/F
Available Formats: MOBI EPUB MS Word PDF MS Reader Text RTF
Click Here To Read An Excerpt from The Manor And The Maiden Bound
Product type: EBook
Published: 6 / 2017
Click Here For The Whole Series
Keywords - click on word to search for more titles