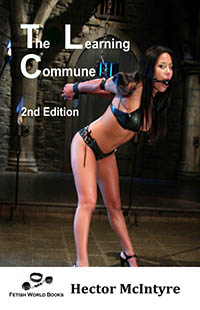 Ebook Price
$5.95
Another great story from this author. I'd just read Sex Auction and
this one is even better, and a totally different setting. Again,
fantastic scenes, graphic descriptions and keeps you wanting to read
another page. Great.  5 out of 5  (Nineboner)

This is a good read.  3 out of 5  (Rama Sama)

This was on the all time top sellers list and so I bought it.  Not
sure it belongs there.  2 out of 5
The Learning Commune
(Hector McIntyre)
STORY DESCRIPTION
It was known as `The Learning Commune`, or TLC for short, and it was perhaps the most feared place in Victorian England apart from the gallows. It was the name frequently used in the poor houses, the female prisons and borstals to instil the kind of fear into the occupants of those institutions that would keep them in line with the rules of the authorities.

The Learning Commune was also a highly secret place, run by a combination of various unaccountable authorities, and it was the place from which no one ever seemed to return.

That fact helped increase the fear factor in those threatened with the dreaded place, for no one was quite sure just what happened there until now.

Now the story of the sexual abuse and sex slave training that went on in The Learning Commune is brought into the open for the first time.

TLC was it`s nickname but it had nothing to do with tender loving care - more to do with enforced sexual slavery of young women offenders - slavery from which there was little hope of escape.


No. words: 30000 We do not recommend this book for readers under 18 years of age
Style: Male Dom - M/F, Sex Slavery / Training
Available Formats: MOBI EPUB MS Word PDF MS Reader Text RTF
Click Here To Read An Excerpt from The Learning Commune
Product type: EBook
Published: 3 / 2018
Keywords - click on word to search for more titles
sexual suffering anal stretching anal sex whipping flogging
oral sex deep throat sex slave slave